DP-YD2EPLS - Drift Package YD-2E Plus RWD Chassis Kit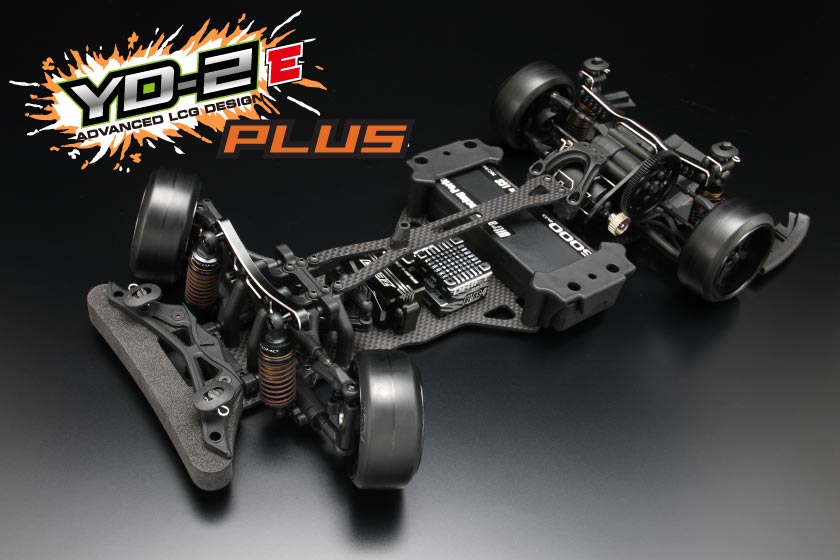 This is a high spec machine YD - 2 E PLUS which incorporates practical warp optional parts in advance on YD - 2 E RWD drift standard machine. Based on the already established 4 gear transmission and the front steering system, the standard deck chassis of SLF Aluminum Big Bore shock and Matte graphite is standard equipment as standard option parts. Further details refined according to the latest drift style. The front suspension arm is a newly designed short type, even with the kit standard enough break angle can be obtained, the rear suspension arm is also equipped with a long stroke LS suspension arm as standard, and the basic performance of the machine is greatly improved. Besides, it is a recommended competition style for experts such as rear toe-in settings that make use of rear traction, and front and rear aluminum shock towers that ensure the operation of the suspension.
Specifications:
Length: 425mm
Width: 198mm
Wheelbase: 256mm
Overdrive: 1:2.6
Over all weight: 1500g
Mat finish graphite double deck chassis
New Front short lower suspension arm
Aluminum SLF big bore oil damper
Alumium Front&Rear shock tower
Aluminum motor mount plate
4WD indepencent double wishbone suspension
High angle steering system for RWD
49mm bone rear universal shaft
Large rear diffuser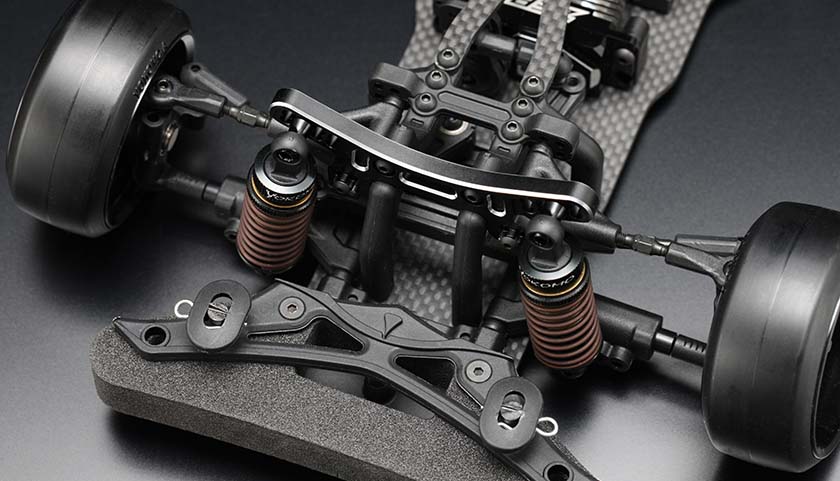 Around the front set as wide tread with kit standard. Besides improving the sense of stability and realizing offensive running, merits such as improvement of cutting angle and expansion of alignment setting range are increasing. Aluminum shock stay is equipped as standard on the front to improve road followability. The bevel edge treatment makes sharp looks and enhances luxury.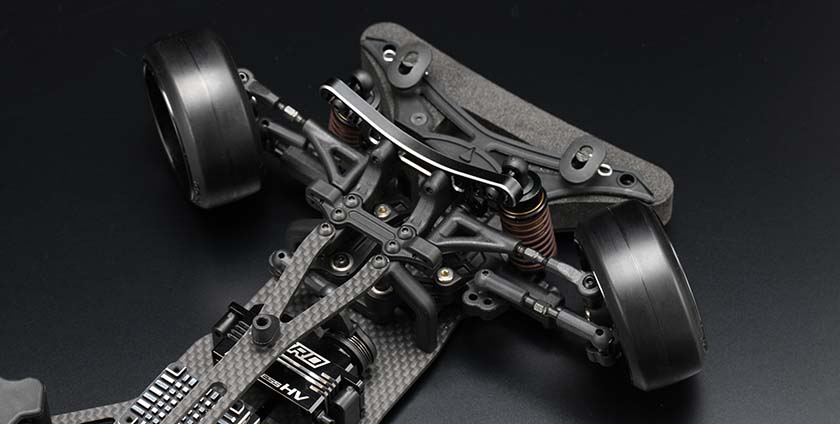 Interference between the wheel and the suspension arm and shock is reduced with the wide tread setting, and even in the condition of the element it realizes the extreme break angle. By obtaining a break angle that can be handled even when the drift angle gets deeper, the range of control widens and it is possible to produce a powerful drift.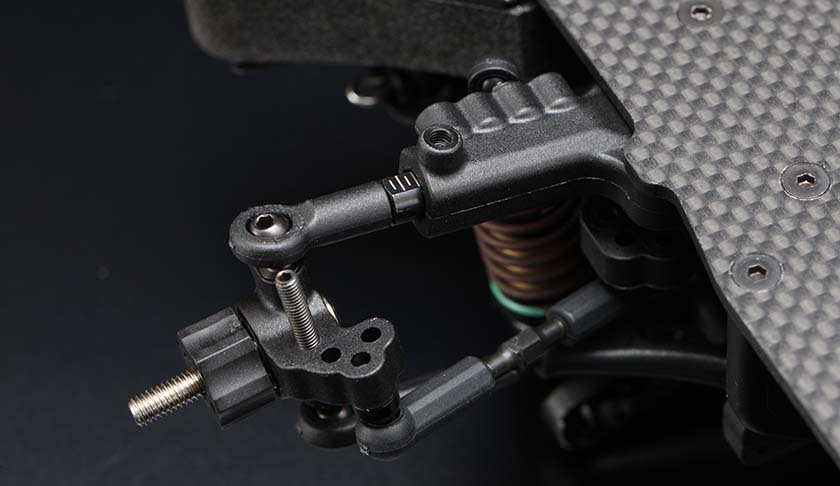 More steering angle due to new Short Suspension Arm which has redesigned for prevent from interference with wheels, besides the location of steering stopper had also refined.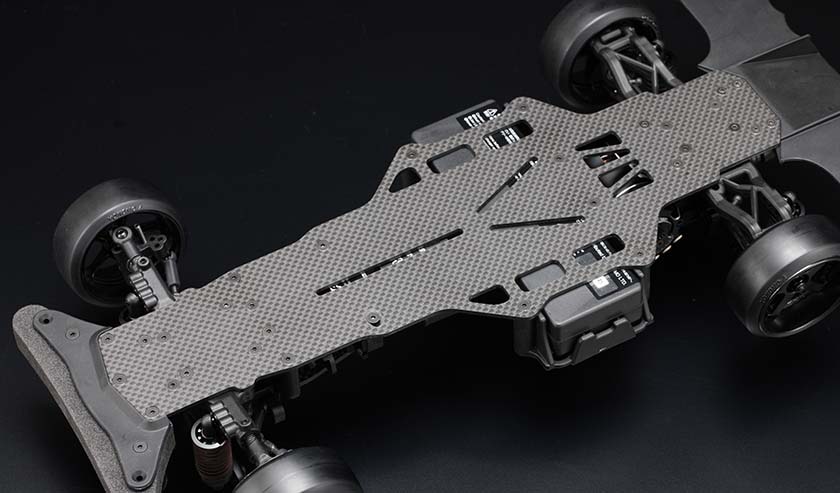 The main chassis is a slim graphite made from top-down from YD-2EX which is the high-end model of the E series. By using matted high-grade material, it has become a chic image finish.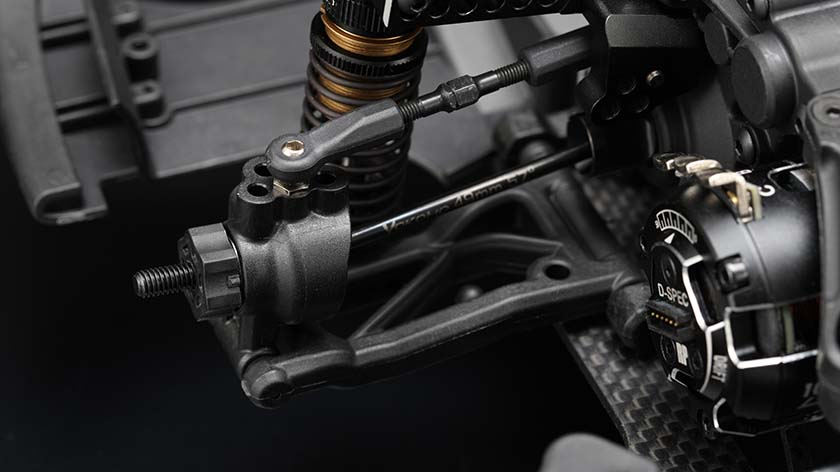 Longer stroke rear suspension arm is now available as standard bundled.By increasing the down-stroke amount, possible to pull out more rear roll aggressively and enhances traction and more stability.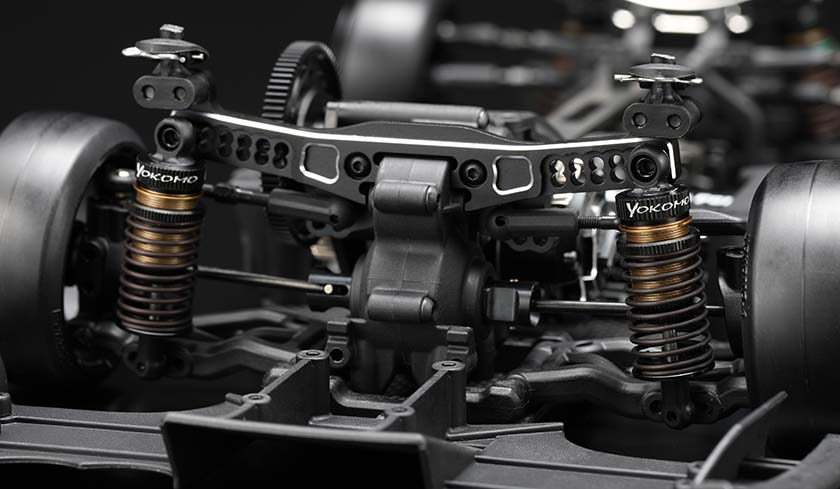 Aluminum shock cylinders are the super low friction shock which is with Kashima coating to reduce the maximum frictional resistance with piston. The largest capacity in on-road car category, 11.2mm big bore cylinder has adopted and enable to absorb even small vibration due to run with a resin tire in a drift run from the road surface, then possible to get a maximum grip.
Height adjust system possible to change the car height by rotate the spring tensioner and suitable for various length on springs. Of course the setting that is most suitable for various road surfaces and run situation in total is provided by the change of shock oil and the piston to get a damping force with finely adjusted.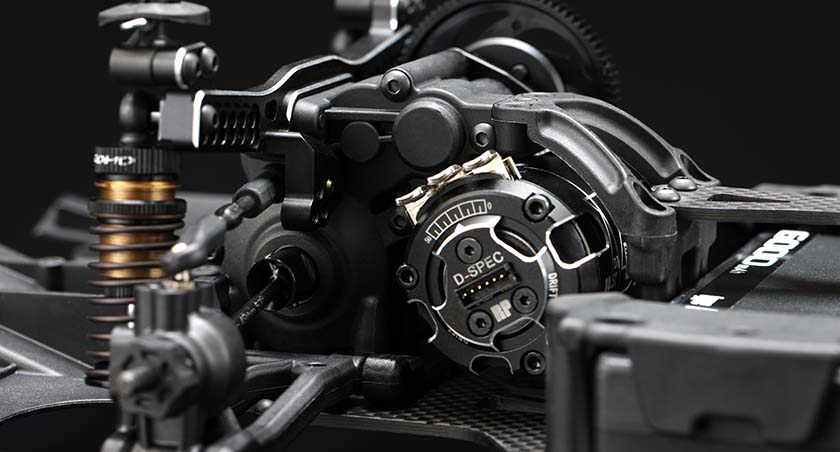 Innovative design of 4-gear transmissions for drift car.. Prevents the left/right imbalance due to the torque of the motor, by installing the motor in horizontal position and lead the neutral steering characteristics. Meanwhile, the rear traction will be increased on the throttle, so possible to escape when cornering stability and acceleration forces to withdraw. High dust-proof sealed gearbox is also attractive.
In addition, rear transmission gear is a lightweight type by using a plastic bevel gear and aluminum axle. Contributes to the improved throttle response and performance.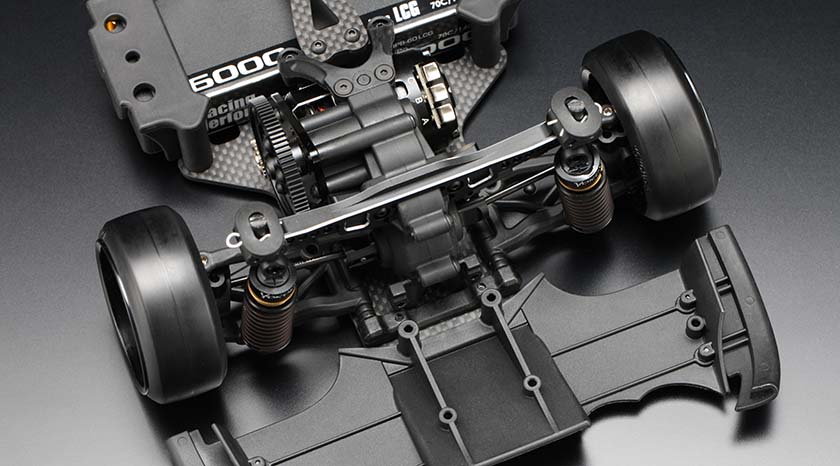 In order to make use of the rear traction obtained by the 4 gear transmission, we set the rear toe-in slightly smaller. Push the machine forward without wasting the acceleration force when raising the throttle. Since the rear catch is lessened even when turning, it makes natural turn-in and flip-back possible.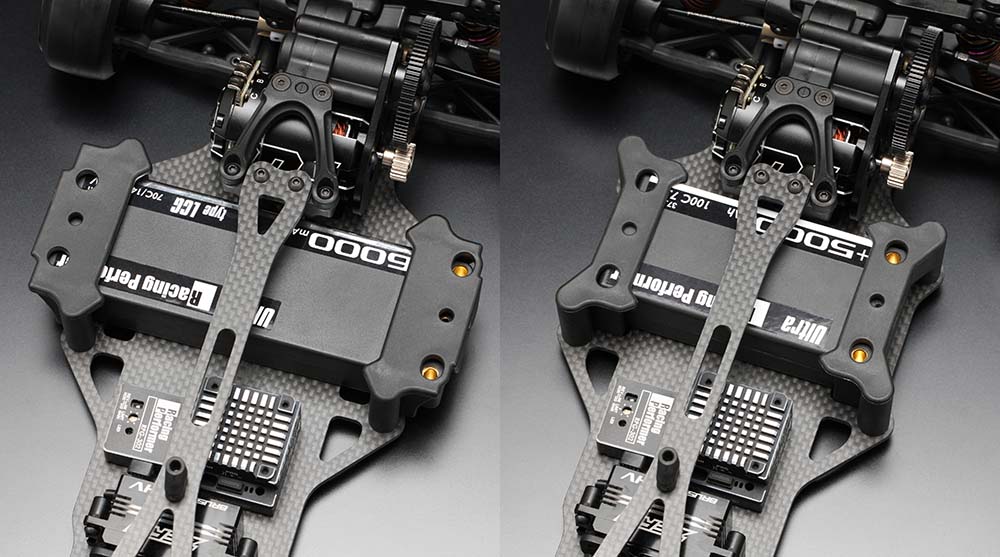 Standard RC Car Battery are all possible to use at YD-2E series.  Standard/Short size Li-po Battery, Ni-Cd, Ni-MH, such as 6-cell battery also available.