Spektrum Smart Powerstage Surface Bundle 5000mAh 2S LiPo Battery IC5 With S155 Charger SPMXPSS200
---
MPN: SPMXPSS200

UPC:

EAN:
---
Features
Delivers 55W of charging power
Charges AND balances Smart G2 batteries with one simple IC3® or IC5® connection — no separate balance lead needed
Charges up to 4S LiPo/LiFe/Li-Ion/LiHV batteries and 1-12S NiMH/NiCd packs
Color LCD screen interface features intuitive menus, icons, and navigation tools
Clock counts down remaining charge time until your Smart battery is fully charged and ready to use
Powerful 50C continuous discharge rating to deliver high performance and longevity
Integrated microchip stores unique parameters for each battery
Balance charge through the IC3® or IC5® connector data wire — with only one connection, no balance lead is required
Overview
The Spektrum™ Smart Powerstage™ Bundle is a one-box solution for vehicles requiring top performance, offering the total package with the ease of use of G2 Smart Technology, less hassle, and maximum fun. Spektrum Smart technology G2 Powerstage bundles bring the latest Smart technology in one package for first-time drivers and enthusiasts. With the Smart Powerstage bundles, users get the most advanced and easiest-to-use battery and charging technology.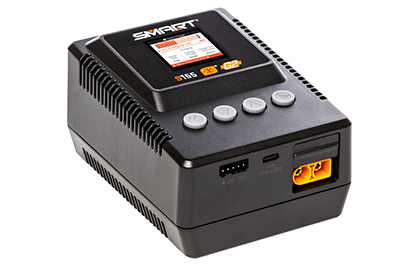 Spektrum™ S155 G2 1x55W AC Smart Charger
The Spektrum™ S155 charger makes advanced, user-friendly Smart charging technology affordable for any RC hobbyist. It's an excellent choice for cost-conscious new drivers who want the safe and simple operation that only a Smart charger can provide. Compatible with 4S LiPo, LiFe, Li-Ion, or LiHV batteries as well as 1-12S NiMH and NiCd packs, the 55-watt S155 charger can be used with all popular RC battery types (though only Smart batteries take full advantage of the charger's innovative features). It includes ports for IC3® and IC5® connectors, so no separate adapters are needed to charge most Smart batteries. Generation 2 Smart technology enables the S155 to charge and balance Smart G2 batteries using one simple connection. No separate balance lead is needed. When connected to a Smart battery, its Auto Charge feature recognizes the correct charging parameters instantly and begins safe, proper charging — automatically.
In order to provide the most hassle-free charging experience, the Spektrum™ S155 Smart AC Charger includes a color LCD screen with improved menus, icons, and navigation tools. Its intuitive interface allows users to monitor charging progress and make setting changes with ease. An on-screen clock counts the minutes in real time until your Smart battery is fully charged and ready to use. When it's time to update the charger firmware, that's easy, too. A USB input port is conveniently located on the front of the case. No special cables are required. Other handy features of the Spektrum™ S155 Smart AC Charger include a sleep mode and a detachable AC power cord. Enjoy your hobby more with the benefits of advanced, user-friendly Smart G2 charging technology.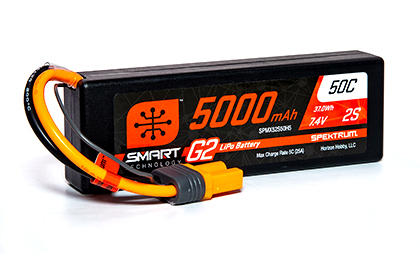 Spektrum™ 5000mAh 2S 7.4V Smart G2 Lipo 50C: IC5
Drivers enjoy even more Smart advantages when using Spektrum™ Smart G2 50C LiPo batteries to power their vehicles. "Generation 2" features make these LiPo packs — featuring a 50C continuous discharge rating for high performance and longevity — even simpler and safer to use with your Smart charger.
For example, Spektrum™ Smart G2 technology makes balancing charge your LiPo batteries much easier. Balancing information travels through the unique data wire of each Smart G2 battery's innovative IC3® connector. As a result, only a single connection is needed — no separate balance lead is required.
Smart G2 batteries come from the factory programmed to discharge automatically to a safe storage voltage of 3.90V after 72 hours of inactivity. The benefits include longer battery life, better performance over the life of the pack, and the peace of mind that comes from knowing your Smart battery is maintenance-free. You can change the battery's Auto Storage settings based on your preferences. G2 batteries also offer a storage discharge rate that's three times faster than the previous G1 Smart batteries.
As with other Smart batteries, you'll never have to set your charging preferences for a Spektrum™ Smart G2 battery until you want to. When a Smart G2 LiPo battery is connected to a Spektrum™ Smart charger, its unique charging parameters and health information upload to the charger from the battery's integrated memory microchip. You can view and set preferences such as charge rates through the charger, so everything required to charge the pack is connecting it to your Smart charger. Smart technology takes care of the rest. Simpler and safer to use.
 This item is a suggested replacement for:
Spektrum Smart G2 Powerstage Bundle for Surface 2S SPMXG2PS2